I chose to host my ongoing NFT project of acrylic paintings, inspired by computer-generated album covers of hypothetical band names, on the defunct music pirating service turned digital marketplace, Limewire.
Limewire's high-security requirements as a creator and contributor to their relaunched 2022 platform is a performance art in itself. Limewire gained traction in the early 2000s due to the complete intractability and anonymity of file sharing, brought together by one common bond: music. However, in human nature, the urge to share grapples with a counterbalance of distrust, selfishness, and an impersonal approach to collecting driven by the fear of missing out, rather than the art of appreciation. Two decades later, we're introduced to blockchain technology: ownership and provenance of your downloads and purchases.

Provenance in the fine art world provides credibility, authenticity and value in gallery settings. That same provenance now follows digital art and is the unique selling point of NFTs.
My first two NFTs in this project were listed in December 2022:
DALL-E is a plain text-to-image artificial intelligence browser-enabled imaging software that automatically pulls references of other digital images on the internet to congregate the best visual average to depict what you have written.
 Users can provide visual mediums as references (such as, "acrylic painting of," and "postcard of,") as well as follow a rabbit hole of AI revisions to achieve a rendering of an image that meets the prompt to their liking. DALL-E has a provenance of its own, where an image saved to your account exists on a unique URL that reveals the initial and final rendered image, as well as the plain text prompts, should any further revisions occur within DALL-E software.
WHAT IS BEING SOLD?
The NFT purchased includes rights for the following:
An NFT of the painting, hand painted by me in an acrylic medium.
An NFT of the original image, generated by DALL-E on which the painting was based.
Intellectual property rights to use both NFT images (painting and DALL-E image) as well as the title of the piece for any creative purposes, while in possession of the NFT token.
In 2020, I wrote down phrases from conversations I've heard and had that I thought sounded like cool band names for a full year.
In 2021, I listed all 198 of them, in the order they were recorded: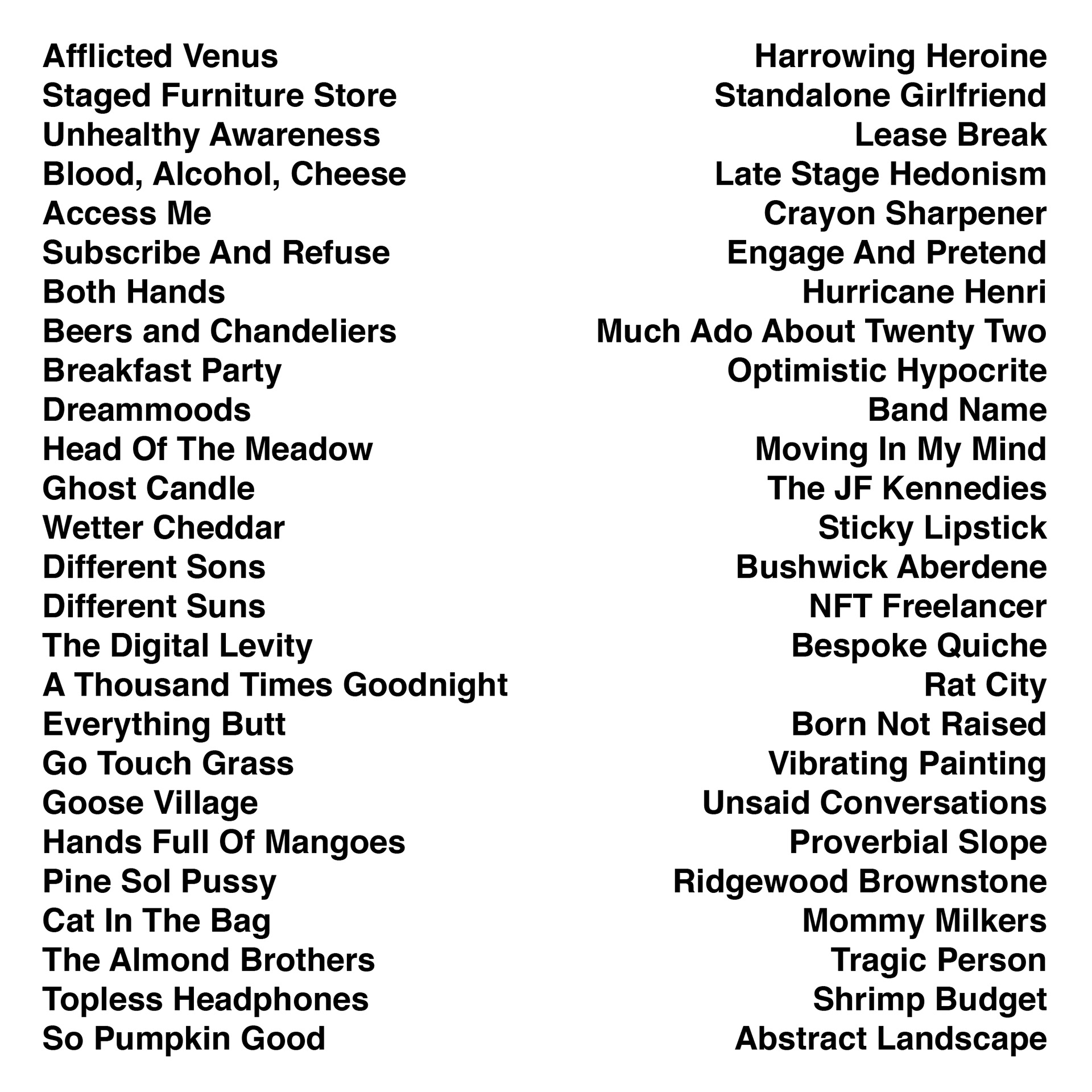 WHAT MAKES A GOOD BAND NAME?
I start by wondering: what makes a good question?
A good band name evokes a feeling that can be felt without the music of the band.
It describes intent and promise to an audience.
In advertising, we call these "brands" – a brand is a promise.
Bands have a loose interpretation and ever-evolving stance on that promise.
A band name is an envelope that all the artists' work then lives under.
How do you put that into words?
I catch phrases said out of order. I catch missteps and misspellings and mispronunciations. Ideas that seem impossible. Adjectives that seem to contradict each other, but exist politely. The words that people forget to use are strung into sentences. Three-word stories. Vague nostalgia. Stripped of context, most phrases can become art.
NFT HOSTING AS A DRIVING NARRATIVE OF WEB3
In order to become a 2022 Limewire creator, I had to upload my license photo to confirm my identity. A UX feature unheard of in the early aughts of the internet. Untraceable havoc through computer viruses planted in early file-sharing services created an ironic panic – poorly measured in an era of early internet culture – where personal information was rarely stored digitally, so I felt I had nothing to lose. I'd destroyed a family computer downloading an episode of Futurama off of Limewire, and a now whole generation of young adults has since learned the hard way that a .exe file is not a playable video file. With my identity not yet online, what I really had to lose, was my computer. It was my means of creating graphic designs and my main window of exposure to other art styles online, which was now bricked by an anonymous virus, and I had been tricked by a faceless machine.
The new Limewire compels the new internet to reverse its intent: honesty and transparency. Selling intangible ideas such as band names and themes, an image of a real painting, drawn by a machine, and assigning the marriage of those ideas to a blockchain.
The hedonism long lost by the Limewire I knew has been replaced by a legal team, so in an effort to provide these files as a fair digital exchange of sorts, I offer multiple files that accompany each NFT purchase.
Besides the lore and reputation of Limewire's past life, the hosting service for my NFTs allows anyone to purchase the artwork using their native currency and a credit or debit card. This intentionally broadens the possibility for digital art ownership without Web 3 base requirements of crypto-exclusive transactions or digital wallets.
In retrospect, I wonder and reflect on what my personal connection to the internet was during the original Limewire era, when so many of our transactions were left willingly untraced. Limewire was a middleman – a free program, harnessed by anyone, to provide anything digital that anyone was willing to offer for free, when honesty on the internet was once a provenance, and that was enough for us.
WANT TO COLLABORATE?
If you'd like an NFT painting and title provenance to enrich your project, shoot me a message below:
Thanks!I'm so excited to get painting with you!